Comprehensive standard range
and
individual product solutions
We represent:
■ More than 60 years experience in tank production
■ Leading technical know-how
■ High degree of flexibility
■ Competent contact persons
■ Production in compliance with current standards
■ Quality - Made in Germany
DHW, combi and buffer storage tanks
manufactured on our own German premises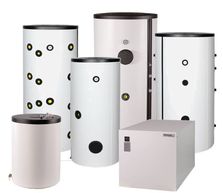 Flat plate and vacuum tube collectors
for a mulititude of combinations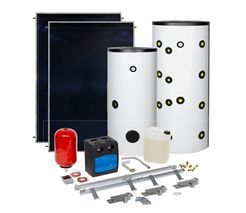 News
Quality and reliability – this is what WIKORA stands for since more than 60 years. Initially founded for the production of charcoal fired hot water heaters, the factory has become a medium sized company with a flexible storage tank production and a comprehensive range of storage tanks and solar products. Competent employees working in the company for many years back this success.
After more than 40 years, as of April 1st, 2017 Mr. Leonhard Jooß handed over the management and joined the advisory board. Mr. Rainer Brauchle, the current director fincance and sales took over the management of the company. In his new function, he is supported by long-term employees and the new proxies Mrs. Silke Hanak (head of finance and purchasing), Mr. Thomas Becker (head of technical department and production) and Mr. Lars Langer (head of logistics, final assembly and IT).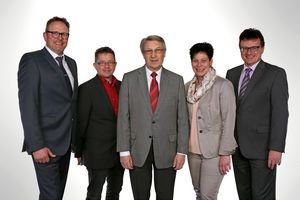 For our customers, business partners and suppliers nothing changes. You can keep on counting on the high commitment and the well-known high quality.
especially designed for use in combination with wall boilers
suited for gas, oil, pellets and district heating

■ Energy efficiency class B
■ DHW storage tank made of quality steel with and certified enamelling
■ Standard design with premium Mg-Anode, sensor socket, flange and circulation.
Sämtliche Anschlüsse sind an der Oberseite angeordnet.
■ PUR-insulation with PS-jacket
■ Max. working pressure up to 10 bar
■ 5 years warranty
■ Capacity: 120 and 160 l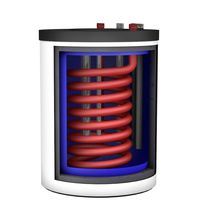 ■ Heatpipe for on roof and flat roof mounting
■ Inclination of 5-90°
■ Serial connection of 8 to 72 tubes
■ Optimal alignment to the sun by rotating the tubes
■ 5 years warranty
■ Solar Keymark certified